---

South Asian Film Festival
Pebbles
Buy a Series Pass to receive discounted admission to all 5 South Asian Film Festival films, plus priority seating!
Florida Premiere!
An irascible drunkard drags his reticent boy to a distant village to get his estranged wife to return, but when the encounter turns ugly, the journey home through unforgiving Tamil Nadu barrens transforms the father and son's parched relationship. What proceeds is a sublime stretch of pure cinema, as the story, buoyed by the randomness of metaphysical encounter, enters the realm of fable, mirage, even prayer, in a land undergoing steady desertification. Vinothraj crafts spare, intimate vignettes linked by rigorous tracking shots that set the expressive physicality of his actors against the grandeur of rock formations and lineages of scorched earth. Winner of the Tiger Award at the 2021 Rotterdam Int'l Film Festival.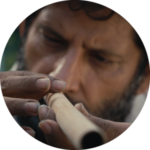 preceded by PILIBHIT
Florida Premiere!
Mounting livelihood pressures and tragedies corner an impoverished flute maker to take a drastic measure that threatens to tear down his values and a loved one. Inspired by true stories of Pilibhit, North India, where man eating tigers thrive.
Pebbles: India, 2021, 74 Min, Directed by P.S. Vinothraj, In Tamil with English subtitles
Pilibhit: India, 2020, 23 Min, Directed by Ashutosh Chaturvedi and Pankaj Mavchi, In Hindi with English subtitles
"An extraordinary first feature…a starkly imagined vision of patriarchy and poverty."

– Richard Brody, THE NEW YORKER

Upcoming Programming

---