---

South Asian Film Festival
The Bengali
Buy a Series Pass to receive discounted admission to all 5 South Asian Film Festival films, plus priority seating!
Southeast Premiere!
There will be a post-film Zoom Q&A with the director!
A multi-racial writer from Louisiana, where her family has lived for four generations, Fatima Shaik embarks upon an unlikely quest when she travels from New Orleans to a part of India where no American has ever gone. Accompanied by Kolkata-born filmmaker Kavery Kaul, her search for the past is fraught with uncertainty as she looks for her grandfather's descendants, the land he claimed to own, and the truth behind the stories she grew up with. Winner of the Flickers International Humanitarian Award at the Rhode Island Int'l Film Festival.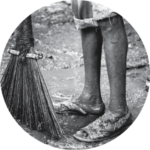 preceded by SON OF A SWEEPER

Director will be in attendance!

Vimal Kumar is the son of a sweeper, or "untouchable" in India's cruel caste system. This enlightening doc short profiles his efforts to provide options and hope for other children of sweepers through education and his "Movement for Scavenger Community" centers.
The Bengali: USA, 2020, 71 Min, Directed by Kavery Kaul, In English & Bengali with English subtitles
Son of a Sweeper: USA, 2020, 28 Min, Directed by Lisa Mills, In English & Hindi with English subtitles
"There's a deft but visionary touch at play here. The Bengali is immersive social reporting on the human experience."

– Tom Jennings, Director, Logan Nonfiction Program

Upcoming Programming

---