---


Cult Classics
The Thing
Encore Screening Added on Wednesday, October 21st, at 9:30PM!
Part of our 13+ Films & Cocktails of Halloween!
Wilford Brimley Tribute
In remote Antarctica, a group of American research scientists are disturbed at their base camp by a helicopter shooting at a sled dog. When they take in the dog, it brutally attacks both human beings and canines in the camp and they discover that the beast can assume the shape of its victims. A resourceful helicopter pilot (Kurt Russell) and the camp doctor (Richard Dysart) lead the camp crew in a desperate, gory battle against the vicious creature before it picks them all off, one by one.
Try one of our 13 Cocktails of Halloween, available at Eden Bar throughout October! Especially: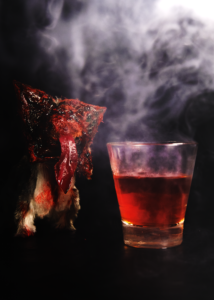 40 Below Zero – $12
If you need something to keep yourself warm when it's 40 below, here is our suggestion: Cask & Crew Orange Roasted whiskey, del Maguey Mezcal, sweet vermouth, and angostura bitters served in a smoked glass.
USA, 1982, 109 minutes, Rated R, Directed by John Carpenter

Upcoming Special Programs

---