---


Music Mondays
Sweeney Todd: The Demon Barber of Fleet Street
Part of our 13+ Films & Cocktails of Halloween!
Come early to hear Chuck Magid play live music at Eden Bar from 6:30-9:30PM, courtesy of Performing Arts Matter!
Evil Judge Turpin (Alan Rickman) lusts for the beautiful wife of a London barber (Johnny Depp) and transports him to Australia for a crime he did not commit. Returning after 15 years and calling himself Sweeney Todd, the now-mad man vows revenge, applying his razor to unlucky customers and shuttling the bodies down to Mrs. Lovett (Helena Bonham Carter), who uses them in her meat-pie shop. Though many fall to his blade, he will not be satisfied until he slits Turpin's throat.
Try one of our 13 Cocktails of Halloween, available at Eden Bar throughout October! Especially: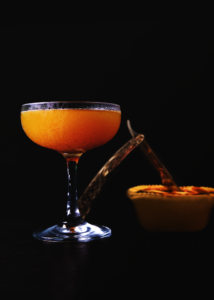 Pirelli's Miracle Elixir – $11
This elixir won't save you from a close shave from Sweeney Todd, but it might help numb the pain for a bit. Appleton Signature Rum, pumpkin spice syrup, and a couple of dashes of chocolate mole bitters.
USA | UK, 2007, 116 minutes, Rated R, Directed by Tim Burton

Upcoming Special Programs

---