---


Popcorn Flicks in the Park
The Santa Clause
Part of our 12 Days of Christmas!
Presented by OrlandoCares by Hylant
Part of the City of Winter Park's Annual Tree Lighting Ceremony. Learn more.
This film is a part of our Popcorn Flicks series, which takes place in Central Park, Winter Park once a month and it's FREE and open to the public! These films are presented with open captions.
Divorced dad Scott (Tim Allen) has custody of his son (Eric Lloyd) on Christmas Eve. After he accidentally kills a man in a Santa suit, they are magically transported to the North Pole, where an elf explains that Scott must take Santa's place before the next Christmas arrives. Scott thinks he's dreaming, but over the next several months he gains weight and grows an inexplicably white beard. Maybe that night at the North Pole wasn't a dream after all — and maybe Scott has a lot of work to do.
This film is preceded by Frosty's Winter Wonderland:
An all-star cast lends its talents to this Christmas special shot in "animagic" (stop-motion animated puppetry). Everyone's favorite snowman, Frosty, plans to marry, but not if the evil Jack Frost can help it. Can the children save Frosty from being frozen lifeless and get him to the church on time? Narrated by Andy Griffith (The Andy Griffith Show, Matlock) and featuring the classic songs "Frosty the Snowman" and "Winter Wonderland."
Try one of our Holiday Cocktails, available at Eden Bar throughout December! Especially: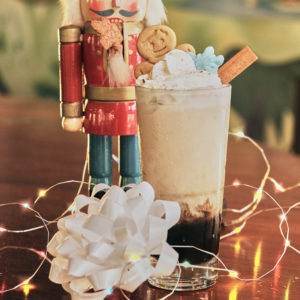 Scott Calvin's Naughty Coffee – $9
Topo Gigio… Locally roasted Coterie Coffee Cold Brew, Smirnoff Vanilla Vodka, Bailey's, Kahula, topped with whipped cream and cinnamon.
The Santa Clause: USA, 1994, In English, 97 minutes, Rated PG, Directed by John Pasquin
Frosty's Winter Wonderland: USA, 1976, 25 minutes, Rated TV-G, Directed by Jules Bass & Arthur Rankin Jr.

Upcoming Special Programs

---