---

Central Florida Jewish Film Festival
Picture of His Life
Buy a Mensch Pass to receive admission to all 6 Central Florida Jewish Film Festival (CFJFF) programs with first priority seating!
World renowned wildlife photographer Amos Nachoum has one final photographic dream remaining–to photograph a Polar Bear underwater in the Canadian Arctic, while swimming alongside it. Winner of Best Documentary at the Israel Film Festival, and Audience Awards at San Francisco, Boston and Chicago Jewish film festivals, this stunning film follows the artist's journey as he contemplates the series of unspoken events that drove him to the end of the world to find redemption. More than 10-years in the making, PICTURE OF HIS LIFE reunites the award-winning Dolphin Boy filmmakers to create a special work that explores the powerful relationship between man and nature, father and son, violence and peace.
Preceded by:
SPACE TORAH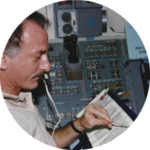 Space travel, Jewish world values, and Yiddishkeit conjoin in this award-winning doc short that details the uniquely inspiring life and out-of-this world journey of Jewish-American astronaut Dr. Jeff Hoffman.
Picture of His Life: Israel/USA/Canada, 2019, 72 MIN, Directed by Yonatan Nir and Dani Menkin, In English, Hebrew & Inuktitut with English Subtitles
Space Torah: USA, 2020, 25 MIN, Directed by Rob Cooper
"A fascinating portrait of a modern-day, benign Ahab…surprisingly moving."

—Frank Scheck, HOLLYWOOD REPORTER

Upcoming Programming

---