---

Central Florida Jewish Film Festival
Love in Suspenders
This film will take place at the Orlando Science Center CineDome. Parking is FREE after 6PM in the Orlando Science Center Garage.
Buy a Mensch Pass to receive admission to all 6 Central Florida Jewish Film Festival (CFJFF) programs with first priority seating! Or buy a Series Pass to receive discounted admission to all 6 CFJFF programs and second priority seating after Mensch Passholders.
Tami is a widow in her 60s and Beno is a widower in his 70s. She is optimistic, always smiling, and still talking to her husband who has been dead for a few years already. Sarcastic lone wolf Beno is tougher on the outside, but also still suffering from the loss of his wife. Tami and her husband were successful singers, so now she lives comfortably in a beautiful retirement home. Beno, on the other hand, is finding it hard to pay the monthly rent. Notwithstanding their differences in lifestyle and personality, and their interfering offspring and neighbors, they eventually fall in love. Israeli Oscar-winner Shlomo Bar-Aba (Footnote) gives a heartwarming performance as Tammy's late husband, who refuses to let her go in this delightful romantic comedy with echoes of Jorge Amado and Bruno Barreto's Dona Flor and Her Two Husbands.
Preceded by:
HOW TO SWIM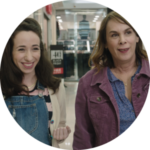 Young, extremely pregnant, and in need of a mentor, Abigail tricks an older woman into hanging out with her for an afternoon. Nominated for Best Short Film by the Israeli Film Academy, this is a touching, comic, and insightful slice of life.
Love in Suspenders: Israel, 2019, 98 min, Directed by Jorge Weller, Not Rated, In Hebrew with English subtitles
How to Swim: Israel, 2018, 15 min, Directed by Noa Gusakov, In Hebrew with English subtitles
"Sentimental, often funny and quite touching!"

– Amy Kronish, ISRAELI FILM & FILMMAKERS

Upcoming Programming

---