---


Music Mondays
Little Shop of Horrors
Come early to hear John Holley play live music at Eden Bar from 6:30-9:30PM, courtesy of Performing Arts of Maitland!
Director's Cut
Meek flower shop assistant Seymour (Rick Moranis) pines for co-worker Audrey (Ellen Greene). During a total eclipse, he discovers an unusual plant he names Audrey II, which feeds only on human flesh and blood. The growing plant attracts a great deal of business for the previously struggling store. After Seymour feeds Audrey's boyfriend, Orin (Steve Martin), to the plant after Orin's accidental death, he must come up with more bodies for the increasingly bloodthirsty plant.
Try one of our 13 Cocktails of Halloween, available at Eden Bar throughout October! Especially: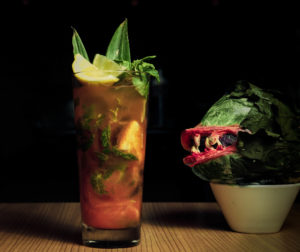 Feed Me Seymour! – $10
There are two things we want in this world: The return of Rick Moranis and a talking/singing Venus fly trap. We'll hedge our bets on the plant. Muddled citrus, mint, fresh lime juice, sugar, Espolòn Blanco tequila, and a dash of sriracha topped with soda.

USA, 1986, 94 minutes, Rated PG-13, Directed by Frank Oz

Upcoming Special Programs

---