---


Kid's Halloween Party featuring
Frankenweenie
Bring the entire family for a costume party featuring Tim Burton's Frankenweenie! Before sitting down to enjoy the film, dress your ghouls in costume and join us for a deliciously spooktacular lunch, games, and fun the whole family will enjoy.
Lunch/Games 11:30AM – 12:45PM
Film starts at 1PM
MAKE SURE TO ARRIVE ON TIME TO NOT MISS OUT ON ANY OF THE FUN!
MOVIE & PARTY PACKAGE:
$20 (per person – child or adult)
1 Movie Ticket
Lunch
Costume Contest
Games
No Movie Only tickets are offered.
Menu
-Monster Mix (Cheerios, Chex, M&Ms)
-Swamp Punch (Dry Ice, Fruit Punch, Sorbet)
-Mummy Dogs (Pigs in Blanket)
-Tombstone Nuggets (Chicken Nuggets)
-Toxic Waste Mac & Cheese (Green Mac & Cheese)
-Wolf Chow (Turkey Sloppy Joes)
-Zombie Tots (Tater Tots with Beef Chili & Cheese)
-Pumpkin Puke (Pumpkin Display with Red Pepper Hummus & Pita)
-Fruit Salad
-Dirt Worms (Chocolate Pudding cup w/ Gummy Worms & Oreo Crumbles)
-Witch's Salad (House Salad)
Table reservations cannot be made for this event.
Young Victor Frankenstein (Charlie Tahan) is a science nerd and outsider at school, but he does have one good friend: his dog, Sparky. But then, tragedy strikes, and Sparky shuffles off this mortal coil. Victor is heartbroken, but his science teacher (Martin Landau) gives him an idea of how to jolt old Sparky back to life. The experiment is successful, and all goes well, until Victor's fellow students steal his secret and use it to resurrect other dead animals — with monstrous consequences.
Try one of our 13 Cocktails of Halloween, available at Eden Bar all October! Especially: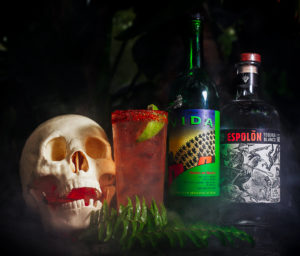 Frankenweenie Cocktail – $9
Del Maguey Vida Mezcal, Espolon Blanco Tequila, EB Watermelon Jalapeño Syrup & Fresh Squeezed Lime Juice with a Tajin Seasoning rim
USA, 2012, 87 min, Rated PG, Directed by Tim Burton

Upcoming Special Programs

---