---


Midnight Movies
Chopping Mall
Where shopping costs you an arm and a leg!
Chopping Mall is a joyous hybrid of Friday the 13th and Dawn of the Dead… with robots! A group of horny teens, including Barbara Crampton (Re-Animator) and Kelli Maroney (Night of the Comet), sneak into a mall. But they soon find themselves confronted with a team of blood-thirsty, high-tech Robo-killers. Packed with familiar faces from the Roger Corman stable (Paul Bartel, Mary Woronov, Dick Miller), this movie crams more slit-throats, lasers, and exploding robots into 77 minutes than most filmmakers can muster in an entire career.
Try one of our 13 Cocktails of Halloween, available at Eden Bar throughout October! Especially: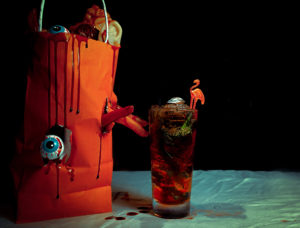 Kill Bots Attack! – $9
Aperol, elderflower liqueur, and mint leaves topped with champagne. A bittersweet end to your after-hours furniture store mall party.
USA, 1986, 77 minutes, Rated R, Directed by Jim Wynorski

Upcoming Special Programs

---