---


Central Florida Jewish Film Festival
The Pickle Recipe
This film will take place at the Orlando Science Center
Buy a Mensch Pass to receive admission to all 5 CFJFF programs with first priority seating! Or buy a Series Pass to receive discounted admission to all 5 CFJFF programs and second priority seating after Mensch Passholders.
Joey Miller (Jon Dore) is the undisputed king of Detroit party MCs. He's also a single father and deeply in debt.  To make matters worse, during his latest one-of-a-kind wedding performance, his prized sound and lighting equipment was just destroyed in a freak accident.  To add insult to injury, his daughter Juiie's Bat-Mitzvah is only four weeks away and she's counting on him to MC the party.  Having exhausted all other options, he turns to his shady Uncle Morty (Academy Award® nominee David Paymer), who agrees to help him out under one condition: Joey must steal his grandmother Rose's (the incomparable Lynn Cohen) most prized possession–her famous top secret dill pickle recipe she has vowed to take to her grave.
Preceded by: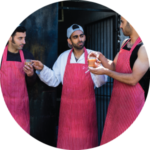 THE CHOP
In this light-hearted and sweetly funny fish-out-of-water comedy, an unemployed Kosher butcher pretends to be a Muslim to get work at a halal shop.  Winner of six festival audience and jury awards, including Cleveland, Denver, Palm Springs Shortsfest, and Seattle Jewish.
The Pickle Recipe: USA, 2016, 97 min, Directed by Michael Manasseri , Rated PG-13, In English
The Chop: UK, 2015, 17 min, Directed by Lewis Rose, In English and Arabic with English subtitles
"An upbeat comedy that has its heart in the right place, aided by an essential trace element of Jewish humor, Kosher pickle included."

– Mark Sommer, BUFFALO NEWS

Upcoming Programming

---