---


Book to Big Screen
Nosferatu the Vampyre
Part of our 13 Films & Cocktails of Halloween!
New 4K Restoration!
Stay after the screening for a discussion on Nosferatu the Vampyre and Bram Stoker's Dracula, led by Dr. Jill Jones, member of the Master of Liberal Studies program at Rollins College. Professor Jones regularly lectures on subjects from American Literature to pop culture and is currently teaching the course; American Hauntings.
Werner Herzog's only horror film is as rich with artistry and tragedy as his most grounded, human work. It is 1850 in the beautiful, perfectly-kept town of Wismar. Jonathan Harker (Bruno Ganz, DOWNFALL; WINGS OF DESIRE) is leaving on a long journey over the Carpathian Mountains to finalize real estate arrangements with a wealthy nobleman. His wife Lucy (POSSESSION's Isabelle Adjani) begs him not to go and is troubled by a strong premonition of danger. Despite her warnings, Jonathan arrives four weeks later at a large, gloomy castle. Out of the mist appears a pale, wraith-like figure with deep-sunken eyes who identifies himself as Count Dracula (Klaus Kinski). The events that transpire slowly convince Harker that he is in the presence of a vampire. Even still, he doesn't realize the magnitude of danger he, his wife and his town are about to experience.
Try one of our 13 Cocktails of Halloween, available at Eden Bar all October! Especially: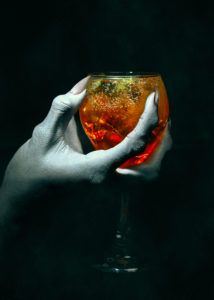 Blood is Life $11
Aperol, Elderflower liqueur, Mint, Cherry, champagne
West Germany | France, 1979, 107 minutes, In English, Rated PG, Directed by Werner Herzog

Upcoming Special Programs

---