---


Popcorn Flicks in the Park
Frankenstein Meets the Wolf Man
Part of our 13+ Films & Cocktails of Halloween!
This film is a part of our Popcorn Flicks series, which takes place in Central Park, Winter Park once a month and it's FREE and open to the public!
Advanced registration is requested. Check back here for the RSVP link to reserve your free, socially-distanced, 10'x10′ movie space. Up to 6 people per party.
Attendees are encouraged to participate in the Curbside To-Go program to grab a meal to enjoy in the park during the movie. City staff will be present to remind attendees to keep a safe social distance. Masks are encouraged and hand washing stations will be available. No popcorn will be handed out at this event in an effort to minimize contact. A list of participating Curbside To-Go restaurants can be found here.
Lawrence Stewart Talbot (Lon Chaney Jr.) is plagued by a physical oddity that turns him into a crazed werewolf after sundown. His desire to rid himself of this ailment leads him to the castle owned by mad scientist Dr. Frankenstein. Frankenstein, it turns out, is now dead, yet Talbot believes that the scientist's daughter, Baroness Elsa Frankenstein (Ilona Massey), can help him. However, his quest to right himself puts him on a collision course with Frankenstein's monster (Bela Lugosi).
Try one of our 13 Cocktails of Halloween, available at Eden Bar throughout October! Especially: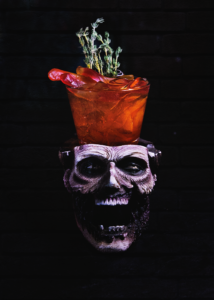 Wolfsbane – $11
Everybody has their weakness and, if you've ever howled at the moon, this could be yours. Ginger spice whiskey with orange zest and thyme syrup, and a dash of bitters.
USA, 1943, 74 minutes, Not Rated, Directed by Roy William Neill

Upcoming Special Programs

---