---


Cult Classics
Elf
Buddy (Will Ferrell) was accidentally transported to the North Pole as a toddler and raised to adulthood among Santa's elves. Unable to shake the feeling that he doesn't fit in, the adult Buddy travels to New York, in full elf uniform, in search of his real father. As it happens, this is Walter Hobbs (James Caan), a cynical businessman. After a DNA test proves this, Walter reluctantly attempts to start a relationship with the childlike Buddy with increasingly chaotic results.
Try one of our Holiday Cocktails, available at Eden Bar throughout December! Especially: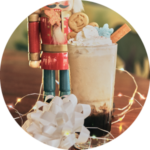 Son of a Nutcracker – $8
Locally roasted Coterie Coffee Cold Brew, vanilla vodka, Bailey's, Kahlua, topped with whipped cream and cinnamon. I just like to smile, smiling's my favorite.
USA, 2003, 97 minutes, Rated PG, Directed by Jon Favreau

Upcoming Special Programs

---