---

Feature
Blue Jay
There will be a post-film Skype Q&A with Mark Duplass after the Saturday 6:30PM screening!
Jim and Amanda are former high-school sweethearts who reunite unexpectedly in the sleepy California mountain town where they grew up, and grew apart. Twenty years on, each has taken a markedly different path in life — he works odd construction jobs in Tuscon and "hasn't got it all figured out"; she's married to an older man, a reluctant step-mom who never wanted kids. But the old sparks still burn strong. One coffee in the local diner turns to a day (and night) spent wandering through the past, where the middle-aged "famous lovebirds" relive the joy and pain that brought them together and sent them reeling into separate futures. Starring Mark Duplass ("Togetherness," THE ONE I LOVE) and Sarah Paulson ("American Horror Story," "The People v. O.J. Simpson: American Crime Story"), BLUE JAY is a beautifully orchestrated (and photographed) romantic drama from directorcinematographer Alex Lehmann and writer-producer Duplass that looks back wistfully and wisely at the big what if: Could your high-school sweetheart be your one true love?
USA, 2016, In English, 82 minutes, In Black & White, Directed by Alex Lehmann
This film will be preceded by Pickle, the 2016 Florida Film Festival Grand Jury Award-Winner for Best Documentary Short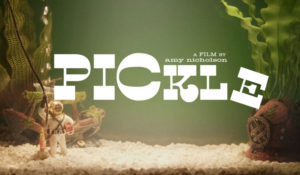 Who will care for a fish that can't swim? Meet the couple that have given Sam, Peanut, Squeaky, Pogo, Birdie, Ginger, Goosie, and Pickle a home. The latest slice of Americana from Amy Nicholson, the director of Muskrat Lovely (FFF 2006).
USA, 2015, 15 minutes, Directed by Amy Nicholson
"Mark Duplass and Sarah Paulson are a match made in heaven."

– Nick Casaletto, WE LIVE ENTERTAINMENT

"Stirring…piercingly poignant."

– Jon Frosch, HOLLYWOOD REPORTER

"(A) sweet and simple romantic comedy. The script is loose; the acting is natural and nuanced. A small pleasure from the talented Mark Duplass, (who) co-stars with the wonderful Sarah Paulson."

– Brad Wheeler, THE GLOBE AND MAIL (TORONTO)

"A heartbreaking romance."

– Shannon Vestal Robson, POP SUGAR

"Finely tuned performances…Mark Duplass and Sarah Paulson shine."

– Steve Greene, INDIEWIRE

Upcoming Programming

---